My city Lodz and its story
Łódź (Lodz) is the second largest city in Poland, has about 900 000 inhabitants.
It is situated in the center of the country, about 120 km away from Warsaw.

The word
łódź
means "boat" and also a boat is a crest of the city.
Name Łódź comes from the river Łódka that used to go through the city.
For many centuries Lodz was a small village with population fewer than 1000 inhabitants.
Only in the beginning of XIX century (Lodz belonged to the Russian-ruled section of the partitioned Poland then) the government decided to create industrial city here. The reason for choosing Lodz was a rich underground water supply and plain area. That made perfect conditions to start textile industry here.
To attract investors there was a special economic zone created in Lodz, which btw. still exists. There were also some other allowances, privileges and financial support granted.
Among the immigrants coming to Lodz there were mostly Jews (got money so could afford building factories and manage the business), Poles, German and Russian. That made a multicultural character of the city (different schools, theaters, churches, cemeteries and so on...).
In 1850 Russia abolished a customs border between the Kingdom of Poland and Russia so the industry in Lodz could develop freely with a huge Russian market at a close distance.
Lodz was called
Ziemia Obiecana
- "Promised Land" as it was developing and getting rich very fast. Already in the second half of the XIX century Lodz became the second largest city in the Kingdom of Poland.
Great industrial magnates, such as Ludwik Geyer, Traugott Grohman, Karol Scheibler and Izrael Poznanski, owned the largest cotton factories transforming them into joint stock family-run companies. Next to every factory there were beautiful villas and palaces. The factory owners built also housing estates for their workers, fire brigades, hospitals, shops, schools and train stations. Everything around their factory. That looked like small, self-supporting towns within the city.
Poznanski factory


Księży Młyn - Scheiblers factory

Dynamic development of the city was brought to the end with the I World War. Both wars ruined also the multinational nature of Lodz.
In years 1940 - 1944 there was Jewish ghetto in Lodz.
In early 1945 Lodz had fewer than 300 000 inhabitants. Until 1948 the city was a de facto
capital of Poland since Warsaw had been totally destroyed during and after the Warsaw uprising and most of the government and country administration resided in Lodz.
Lodz was not so much destroyed during the war.
In the communism time authorities nationalised all private companies. When the system collapsed, after 1990, most of them were privatised again, but were in such a desolate state that few survived in the new capitalist reality.
Poznanski's Palace. It is a Museum of Lodz City History now.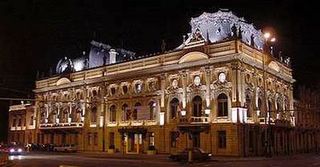 Poznanski factory. It is huge. Right now it is being rebuilt into new shopping and entertainment center - Manufaktura.
The palace of Scheibler's daughter and her husband Herbst (who was the main director at Scheibler's factory).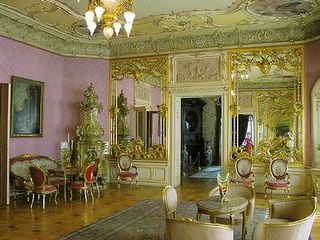 Schebler"s factory. It is empty, in ruin now.
Houses of Scheibler's workers, placed near the factory. They are small and the lower class live there now.
Fire station funded by Scheibler. It is situated opposite to the factory.
The palace of Scheibler. It is a museum of cinematography now.
White factory once owned by Geyer. It is a museum of textile industry now.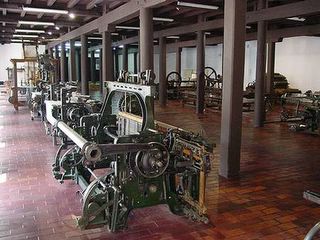 The plan of the city is different than in other cities. We dont have central market. The city was planned entirely by government so has more like american structure.
The most famous place is simply a street - Piotrkowska street. It is considered to be one of the longest shopping streets in Europe (4,5 km long). There are various institutions, banks, shops, restaurants, galleries and first of all pubs along this street. You can also take a rickshaw-ride here.
All the buildings are maintained in characteristic art nouveau style.
We call it
secesja
.
Wall with famous Lodz inhabitants.
Rickshaw ride.
Bricks with names of Lodz citizens and Hangy with Ale.
You could buy the brick with your name.
Money raised in that way covered the renovations costs of buildings on Piotrkowska street.
There are some sculptures of famous inhabitants from Lodz.
Here pianist Artur Rubinstein and Beata.
Julian Tuwim - writer and me.
Former factories owners at the table with Daniel.
Writer Władysław Reymont - Nobel prize winner and Ale.
Lodz is famous also from its film character. We call it even Hollyłódź.
There is a good film school where Polanski, Wajda studied. We have also Camerimage - international film festival of the art of cinematography.
Our walk of fame and Fred with Jenny,
Here in one very popular pub - Łódź Kaliska.
Dont forget to drop in:)